WE ARE WATER
Flowing in the purifying, healing and transforming water.
Surrender to the strength and life giving source of life
Water and the the power to give and to take life
i made these portraits and photo's for a series called we are water about our relation with water, we are born in water, it is our life source and it feels so good to flow weightless in the water. The continuous changing patterns and reflections in motion created by water are fascinating like an abstract painting.
This series is also inspired by climate change with the question were are we and can we really take actions and change the world. Clean water is not available for every living creature on earth. With this series i like to pay tribute and respect to our life source.
31 July '22 is the last day of a six-week beautiful exhibition called We are Water which I set up together with my son and audiovisual artist Victor Dissel, working together really brought us more and more together which I am grateful for, Thank you, Victor!  We put together a multidisciplined art exhibition with much-appreciated colleagues like Ingrid Jansen who painted photos we made together. Ralph Lambertz who made beautiful sculptures of stuff washed on the shore and Ruud Lanfermeijer whose paintings and drawings are about the flood last year in Germany where he has his atelier. Emanuel Nijkerk made an impressive video art installation called 'Source' with his companion Victor. Victor also made a very inspirational immersive 3d installation called 'Reflect' where you can feel and hear the water flowing. All in all, there is much to see and it all has to do with our relationship with water. a Big Thank you to all the artists for their work and energy! Hereby I also like to thank all the people and sponsors who donated to get the whole project from the ground and of course, all the people of 033fotostad at the Rietveld pavilion Amersfoort, Thank you so much! Thank you to all the musicians and crew who did the performances with us at the de Lieve vrouw theatre, the opening and the metaal kathedraal.
Toon Roos sax, Berthil Busstra keyboards, Angelo van de Burg percussion and handpan, Victor Dissel sound effects Ingrid Jansen painting on the spot and not to forget Gerben van der  Kley for his hard work.
On the last day, there will be a performance by Emanuel and Victor 'Source' and I will present a special installation with photos of real ice!?! here is a little poem I wrote to accompany the ice installation, if you read this in time be welcome to visit us at the Rietveldpavilion Zonnehof 8 Amersfoort 31 july 13.00-17.00h, hope to see you!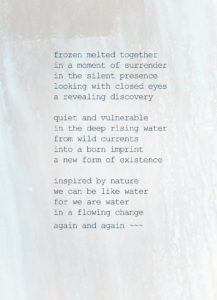 the music titled We are Water is improvised by me on guitar, keys, bass and Angelo on percussion and hang
recorded and mixed at studio music in color